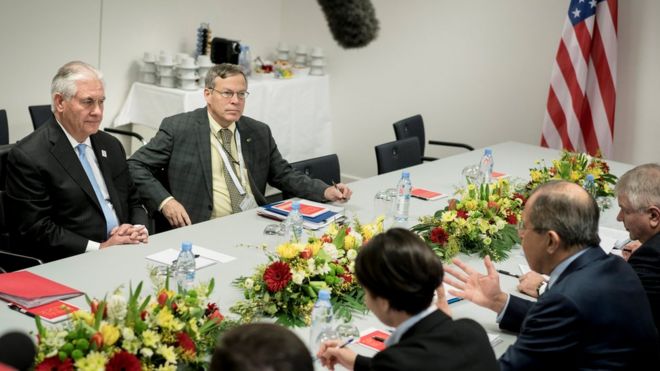 The US will consider working with Russia but will stand up for its own interests, Secretary of State Rex Tillerson has said.
Mr Tillerson met Russian Foreign Minister Sergey Lavrov on the sidelines of a G20 meeting in Germany as part of his first foreign trip in his new job.
Meanwhile, US Defence Secretary James Mattis said Washington was not ready to collaborate militarily with Moscow.
US President Donald Trump has called for improved ties with Moscow.
But the new administration's diplomatic initiative comes as questions are raised about the Trump team's dealings with Russia dating back to last year's election campaign.
US intelligence services have concluded that Moscow hacked into emails of President Donald Trump's Democratic opponents during the election.
And three of Mr Trump's aides have been forced out over allegations about their links with Russia, including National Security Adviser Mike Flynn earlier this week.