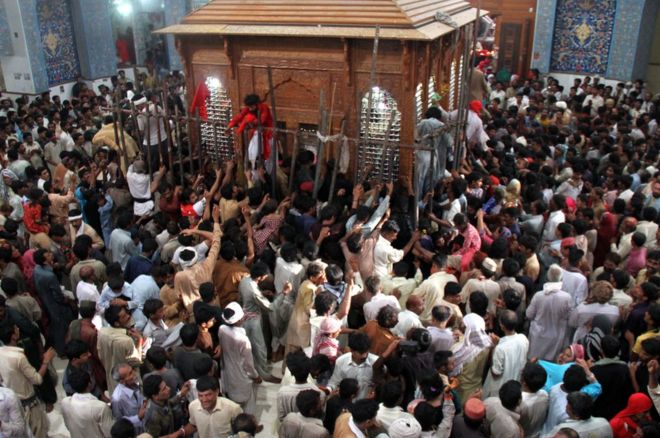 At least 25 people have been killed and dozens more wounded in a suicide bombing at a popular shrine in southern Pakistan, local media report.
The explosion targeted the shrine of Sufi saint Lal Shahbaz Qalandar in the town of Sehwan, in Sindh province.
Prime Minister Nawaz Sharif condemned the attack and urged Pakistan to "stand united".
A Sindh police spokesman said a suicide bomber had entered the shrine and blown himself up among the devotees.
Television station Samaa initially reported more than 50 people were injured, while Geo TV put the figure at over 100.
The shrine is one of the most revered in Pakistan, and was crowded as Thursday is considered a sacred day for Muslims to pray there.
Medical facilities near the blast site are said to be insufficient to handle large-scale casualties.
Those that can are two hours' drive away in Jamshoro and Hyderabad.
No group has so far claimed it carried out the attack.
'Universal humanity'
In a statement, the prime minister vowed to fight Islamist militants who have carried out attacks in Pakistan.
"The past few days have been hard, and my heart is with the victims," Mr Sharif said.
"But we can't let these events divide us, or scare us. We must stand united in this struggle for the Pakistani identity, and universal humanity."
The blast is the latest in a string of bombings in Pakistan this week.